Endless direct marketing channels bring endless opportunities to grow your business. Very few direct marketing channels offer extraordinary results. In the market, you also might have tried various marketing tactics. Some tactics might have worked for you, and some didn't. Ergo, this time I am bringing you the remarkable marketing strategy – that will definitely work for you. That is MMS Marketing.
You and I both will agree on what you are going to read next. SMS marketing has its flows. – Simple text format, comparatively less engagement rate, lack of physical attachment or dependency on the short link, limitation of characters. These all lead to discovering an advanced marketing channel.
Marketers always find a way.
Don't they?
Hence, the MMS marketing came in the spotlight.
Without further ado, let's jump into why I love MMS marketing and why you will love it too?
5 Reasons to Leverage MMS Marketing
Graphical Presentation of Product or Service
Do you want to add a graphical presentation of your product along with emojis? Do you want to grab recipients' attention with an eye-catching visual style? – MMS marketing will be the perfect option for you.
High Open Rate
As from your own experience, you can tell that people don't instantly check their emails. But when it comes to text or MMS, people will check it within 90 seconds. So, the open rate is very much higher compared to Emails.
Call to Action
Customer retention is one of the goals of marketers. With an MMS campaign, you can do that. You can add text instructions in your MMS campaign. Guide them to take action. Whether you are offering coupon or sale offers – MMS will change the experience of consuming information.
One of the world's largest furniture retailers implemented an MMS marketing campaign successfully. Have a look at how they did it?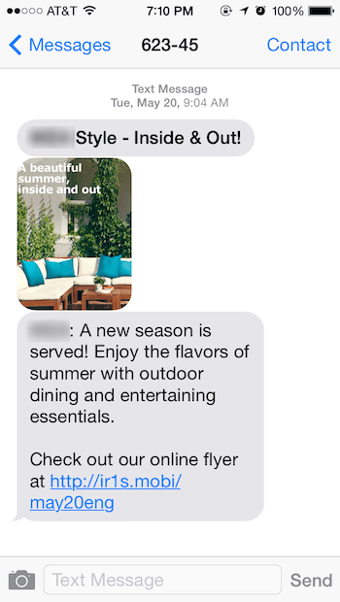 In their MMS marketing campaign, you will get the image, text detail about their products, or offer along with Call To Action. In this MMS, they have shared the link of an online flyer.
What does this campaign indicate? – clear visual presentation, suggesting users to take the next step along with the link. This is how you can create a better Multimedia Messaging Service (MMS) marketing campaign too.
Freedom to show Creativity
Branding is a crucial part of any business. In MMS marketing, you have the freedom to let your creativity fly. You can prepare a sound visual and content strategy for your MMS marketing campaign. Why not use every functionality of MMS when you can?
Create Brand Recall through Audio-Visual
Human psychology matters a lot when it comes to marketing. As per the number of researches, it has been proved that the human mind can remember visual information for a longer period than a simple text format.
Now you know. Why should you choose MMS marketing? Although, some marketers have misconceptions about MMS. Let me clear that out for you.
Misconceptions about MMS Marketing
MMS & SMS are both the same.
That is not true at all. MMS offers rich functionality – where you can send physical attachments such as images, videos, GIFs, etc. That is not possible in SMS marketing. All you can send is text and a short link. You can check out the Key difference between SMS and MMS
MMS Marketing is expensive.
As a marketer, you would be very well informed about the other marketing strategies' expenses. Well, MMS marketing is not expensive, and the good part is – it offers many functionalities to run a successful marketing campaign. If you choose the right platform like LeadsRain, your every penny will be worth of the MMS marketing campaign.
Don't blindly trust these kinds of misconceptions. Analyze the MMS marketing strategy by yourself. Check whether you can achieve your marketing goals through it or not. Take the decision accordingly.
If you are all set to implement an MMS marketing campaign, we have some best practices for you to follow. Take a quick look.
Follow K.I.S.S (Keep It Simple Silly) formula while preparing your MMS message and jpg format.
No one wants to read a long paragraph. Keep your content concise and write your content error-free.
Give a personalized experience to your recipients. Use words like "You" & "Your" in your content.
Message timing plays a vital part in the open rate of MMS. Hence, choose the best schedule possible for your MMS campaign.
The consent of recipients is a must. If you get the information about not sending MMS to recipients, immediately remove those cell numbers from your campaign list.
Well, now you can easily decide on your MMS marketing strategy. If you are looking for the right platform for your MMS marketing campaign, Signup today for the Demo & FREE Trial.