Why to discuss a successful Political Campaign Strategy? Don't you already have a few strategies pre-defined? I am sure you have. You might not want to change those strategies or you might be looking for the new ones. Hence, today I want to share one of the effective political campaign strategies with you. If you are not using it, this guide will help you add it to your upcoming political campaign. Let's start off:
Many marketers make the mistake of relying on one single communication channel. May it be email marketing or SMS marketing or any traditional method. This mistake should be avoided if you are also making it. I would suggest going for an Omnichannel Approach. Let me give you an example.
Let's say you are planning strategies for the upcoming political campaign. At this point, you need to make sure to have the right platform to grab potential voters' attention. You might be using billboards, pamphlets, going door to door, and other strategies. All these strategies might help to run your campaign successfully.
Although, Ask yourself, "Where are your potential voters spending their time most?"
Definitely not on the road, nor in the home all the time. You guessed it right – Most people are spending their time on cell phones and laptop screens.
"Why not reach them, where they are already?"
You don't need an ultra-advanced strategy to reach your supporters through MMS marketing. You can do a lot with the MMS marketing campaign. Let me share numerous reasons to choose MMS marketing for your political campaign. Next, we will be discussing various strategies you can implement through MMS marketing.
To increase your click-through rate, MMS would be a good call.
The recipient doesn't need to download any application.
To stay connected with your supporters constantly through MMS marketing.
Explore more reasons to choose MMS marketing along with this.
You can send it all, starting with an image, video, contact, GIF, etc.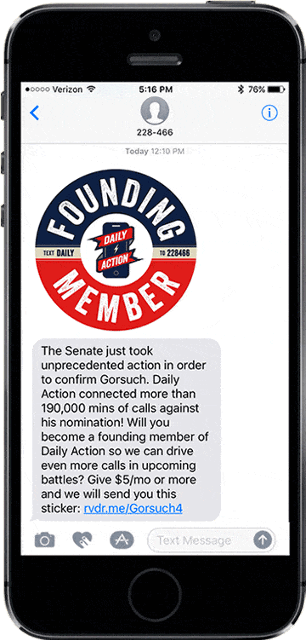 MMS marketing is a perfect solution for your political campaign.
"Say more with an MMS marketing campaign"
Let's explore activities you can do with MMS marketing
If you want to have targeted supporters for your upcoming rallies, send them MMS with keywords. This way, you will get specific supporters as in subscribers for your next effort too.
MMS can be useful to inform supporters about the candidate's information. Most of the time, people don't vote because they have no detailed information about the candidate.
Want to make donations easy for your supporters? Use MMS marketing. A simple call to action link and eye-catching image with your message will catch the recipient's attention.PS: Think from supporters' mindset while preparing MMS messages.
When you are looking for a volunteer army for your political campaign, MMS marketing will make it easy for you. With LeadsRain MMS marketing, you can set an MMS campaign along with an auto-responder. Once you get opt-in from volunteers, our platform will send them a relevant reply immediately. Which by the way, you have pre-defined while running the campaign.
To register voters, send GOTV notifications, and for opt-in promotions of your political campaign, you can use MMS marketing.
Barack Obama was recognised as the first mobile marketing president. As his campaign strategy was a very good mixture of digital marketing, mobile marketing and other database marketing. At the end of the campaign, his team could gather 3 million supporters through mobile marketing, and opt-in promotions.
For surveys and polls – visual statistical presentation can create a good impact on the recipient's mind. You can run an MMS campaign along with a visual image or video.
For event announcements and to get the registration of supporters, you can use an MMS marketing strategy. You can even set reminders to send them.
Starting from bringing awareness to potential voters about candidates to successfully finish the political campaign – MMS can be implemented for your marketing activities.
Also read: How Text Messages can be a Game-Changer in Political Campaign?
The Donald Trump team also implemented an MMS marketing strategy while running the campaign. During the final weeks of the presidential campaign, Trump's team sent 7 MMS videos to his subscribers. They used every possible marketing strategy to win. You can also follow MMS marketing along with an omnichannel approach.
Final thought
When you are implementing an MMS marketing strategy, make sure to stay in compliance with the laws. If your political MMS marketing strategy is effective, the result will be a good number of supporters for sure. Get your MMS solution in action today with LeadsRain. Connect with our support team for a demo.