During Dreamforce 17 we announced that we natively integrated LeadsRain's most sought after TCPA complaint, information Ringless Voicemail Service with Salesforce. Dreamforce is as we all know Salesforce's annual event that acknowledges technology and creativity of people around the world. 
We have always found it truly inspiring and have gotten something of value every year. We are thus not only going to attend Dreamforce '18 but also exhibit LeadsRain there! Here are some major upgrades in the light of native integration of LeadsRain with Salesforce.
First of all LeadsRain's RVM is the only ringless Voicemail service available in the AppExchange marketplace now. With Ringless Voicemail now we have also integrated our Text Messaging Service with Salesforce. So you along with sending voicemails that do not ring to your contacts in Salesforce you can also serve them with text messages from our Mass texting Service.
Our developers dedicated entirely to Salesforce have made the user interface of our LeadsRain app in Salesforce, really easy and manageable to give you a hassle-free experience. From this application, you can centrally manage all the primary activities like sending RVM and Text Messages to all or some of your leads, etc.

More importantly, we have introduced three components or rather three quick components like Quick Drop RVM, Quick Text Messages and Shoot to Campaign. The first two components will allow you to send your message straight to voicemail and Text messages in just three clicks to individual leads. Whereas the third component will let you send RVM or Text Messages to entire campaigns (lists of leads) in just three clicks.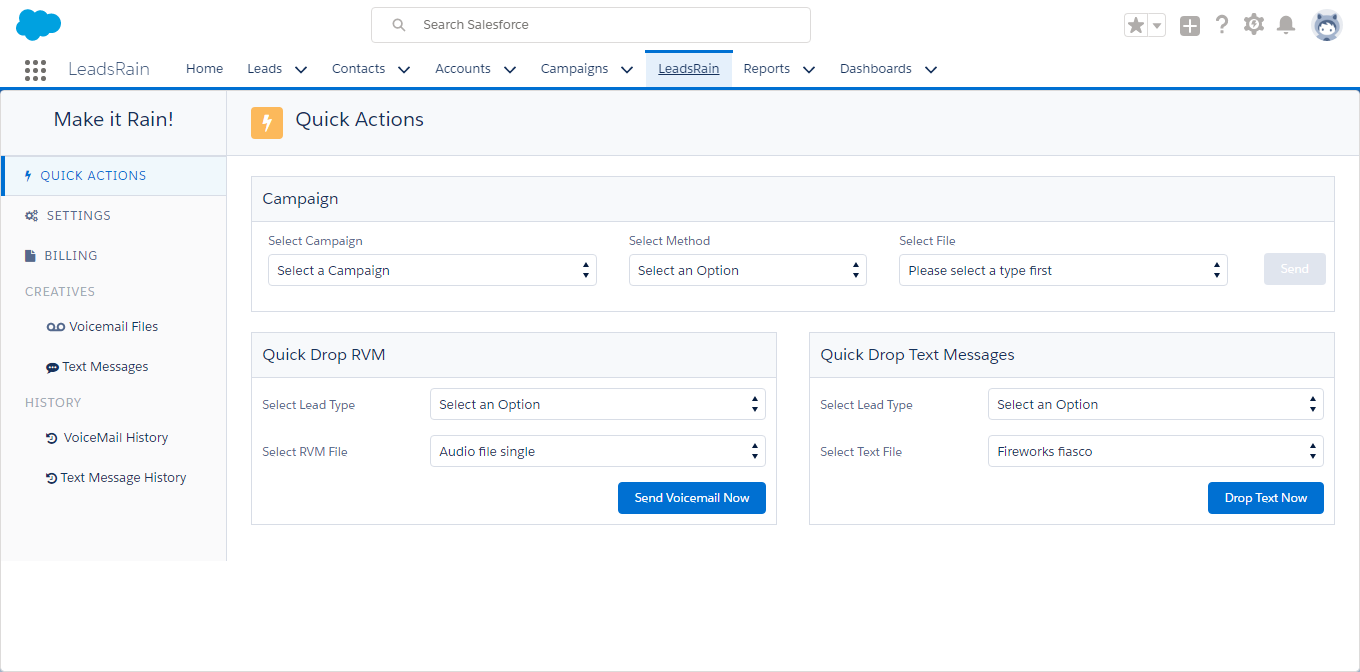 So our LeadsRain app for Salesforce is up and running and you can just plug in and are all ready to go. Stil if you have any doubts and queries regarding how to get the app installed and started contact our support team at sales@leadsrain.com and we'll be happy to help.