Although text messaging modified the method of communication, it is not going to fly high in today's globalized world. We live in a modernized world where we demand to share large files, high-resolution photos, group chats, video calls and get the read receipts. Rich Communication Services(RCS) facilitates us with all of it and keeps us ahead of the pack. RCS aimed to replace the regular text messages, but different approaches made it difficult and expensive to implement.
By ailing on the RCS profile of GSM Association (GSMA), carriers can now enable RCS messaging on the entire Android ecosystem with the client app. It's a fighting chance for Google in front of RCS, MMS, SMS messaging. Its availability on Google Play Store makes it smooth sailing, which facilitates clients to deliver a unified messaging experience.
RCS is estimated to be worth $74 billion by 2021.
On the other hand, Apple Business messages are encrypted messages which appear in blue text bubbles in iOS. They are the text messaging services allowing photos or videos which are available on Apple devices using wifi/cellular-data networks.
Former iOS chief has announced that Apple approached operators to convince GSMA about taking an initiative to bring Apple Business messages to the conventional way of texting. But, unfortunately, that didn't work well.
For instance, if one is not using Apple Business messages, the service available then is only SMS/MMS. These are the text and photos like you send other mobile phones or devices. The following information has been derived from one of the sources and depicts that Apple has been pressurized to deploy RCS by Operators.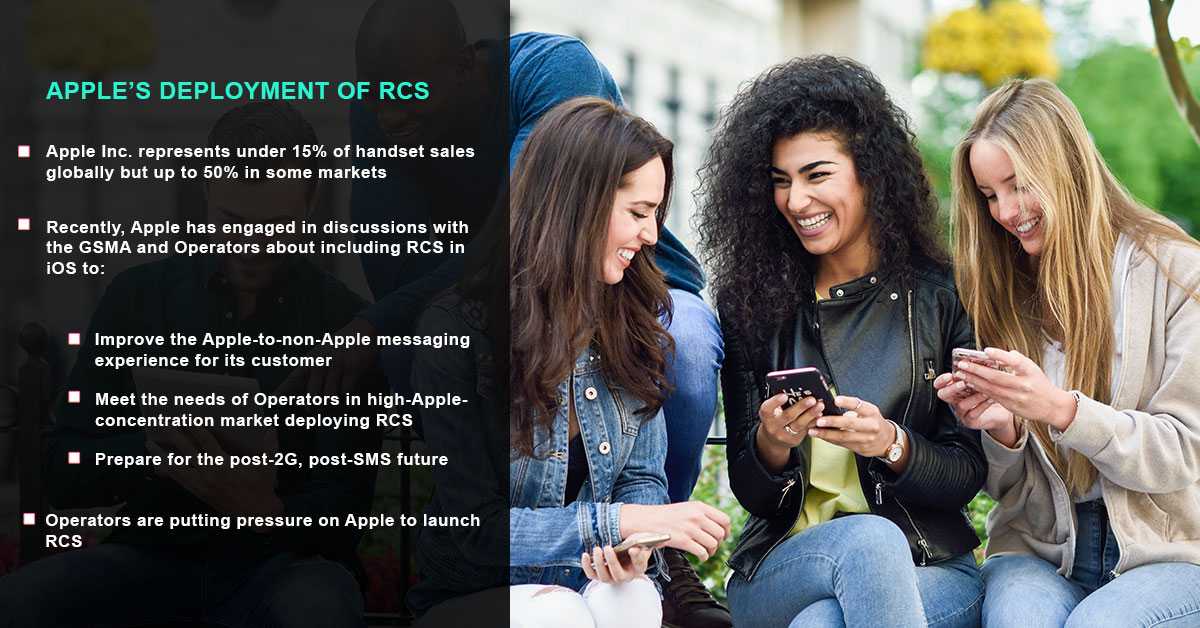 Also Read: Helpful Bulk Text Messaging Strategies for your Food & Beverage business!
The Verge revealed when discussed the future of Android text messaging that Google has advocated a next-gen texting standard called Rich Communication Services, where features are already in a standard modern chat application like iMessage and Whatsapp. The idea behind RCS is that it will replace the conventional text messaging system by default for business marketing needs.
Recently, Google unveiled that it is heading towards wireless carriers, namely Verizon and AT&T on the board to get along with RCS- which is somehow known as 'Chat.' The Google executive, Anil Sabharwal, says he expects a "large percentage" of Android users to have access to Chat messaging by the mid of 2020. The big fish backing up is Microsoft, though it's not a part of this catfight.
Now the company can rollover this cliche and go either way. Texting from the iPhone to Android is like a subpar experience, as it narrows down the possibilities and restraints the people taking part in group chat. Competition is the name of the game, where Apple mainly locks its people into its platform by Apple Business messages. Now supporting RCS would mean putting full-fledged features of iMessage into jeopardy. As RCS doesn't provide the functionality of end-to-end encryption, thus Apple would not pursue such a sheer option.
Now the realms of these embedded text messaging methods proved to be a running battle, where LeadsRain has come up with a new initiative of Rich Text Message (RTM). It is a text messaging tool for sending an image, video, audio, map location, etc. The facility of link preview has also been added to enrich the text message experience. RTM in its complete, nuanced version of Cloud Text Messaging acknowledges the needs of current businesses.
Also Read: Ready To Use SMS Templates for Network Marketing Campaign
It offers a platform that encompasses a series of functions that can announce users' presence loud and clear with a clear call-to-action.
Here at LeadsRain, we consider our rich communication message services as your investments, and with RTM services we assure prompt responses and large observable returns to users' investment. It is backed by the intense study of RCS and allows its users to get a real push for their crowded messaging ecosystem landscape.
LeadsRain's RTM Services will provide:
Image, video, location, integrated text messages.
One can also include QR codes, statistical data, etc. in the text messages.
A short URL for messages to enable a variety of digital representations of data.
Our renowned support will benefit your business immensely.
Rich Text Message services are enhanced on our platform with our provision of short URLs. We believe in effective services and leave no room for compromises, and hence, have made provisions for personalized URLs that can complement your services or the data representation. Primarily, our rich communication service is designed to bear the best of outcomes for YOUR business.
Today, RTM is in full swing, where users have high expectations for business communications for advanced interactive messages. The Rich Text Messaging is a sophisticated approach for interactive communication facilities available at 1.3 cents* only.
Additionally, LeadsRain elicits its customers with ample information and personalized manner to reach its precise audience with:
Sending status updates or collecting feedback
Creating tailor-made rich messages
Delivering outbound messages automatically based on the customer's taste
Providing free inbound message facility for better communication
RTM has 93% open rate within 3 minutes of delivery.
Its benefits for the business:

High Readership
Make your message viral with the most reliable platforms.

Rich Texts
Decorate your messages with rich texts and optimize the source

SMS Retargeting
Keep the targeted audience in the loop by keeping a note of their activities.
Carriers are tied up for RCS by GSMA, but still, the rattling battle between the two giant companies is still hot. This method of RTM merely solves the issues of reaching out to the customers with rich text and gives a satisfying output for Insurance agents, Business Marketing person, and Real Estate Agents.
We at LeadsRain have omnichannel fluidity of approaches to drive terrific results. We help you engage the clients to make a game plan and ascend towards successful campaigns. Rapidly elicit a comprehensive understanding of the services and provide you a tailor-made approach. You can grab a chunk of our free trial of RTM at our website, or you can mail us at support@leadsrain.com.