Consumers check their cell phones more than any communication platform. In fact, the average US consumer spends nearly 3 hours a day on their cellular phones. SMS marketing provides the perfect opportunity to reach consumers where they spend most of their time. So, how do you develop an effective SMS marketing campaign?
The following informational guide reveals everything that you need to know to develop an effective SMS marketing campaign. We also reveal the top 5 SMS campaign examples to help get your creative processes flowing.
Why SMS Marketing is Beneficial to Grow your Business?
SMS marketing is an effective tool for businesses across all industries. Open rates of text messages are nearly 98%. This rate is significantly higher than any other channel for reaching consumers. This is only one of the numerous benefits of reaching customers via text message.
Other Benefits of SMS Marketing Include:
Immediate Delivery
Increased Customer Engagement
Ability to Opt-In or Opt-Out at Will
Mobile-Friendly
Fully Integrable
Reach Wider Audiences
SMS marketing is also one of the most cost-efficient forms of marketing. Modern platforms also make it easy to develop effective and practical SMS campaigns.
Best SMS Marketing Practices to Follow
There are a few things that marketers must remember in the process of developing an effective SMS campaign. These best practices ensure that the text messages that you send are well-received and beneficial to both your business and the customer.
First and foremost, always ask customers to opt-in before sending SMS notifications. Not only is this polite, but it is also the law.
Other SMS Best Practices Include:
Identify yourself immediately.
Keep messages short and to the point.
Use proper grammar and spelling.
Send texts during the daytime hours.
Offer Immediate Value
You should also always provide customers with the opportunity to unsubscribe. This is a simple but critical option for retaining customers who no longer wish to receive notifications.
Top 5 SMS Marketing Campaign Examples
Each of the following types of SMS marketing campaigns can be tailored to meet the unique goals of your organization.
1. Welcome SMS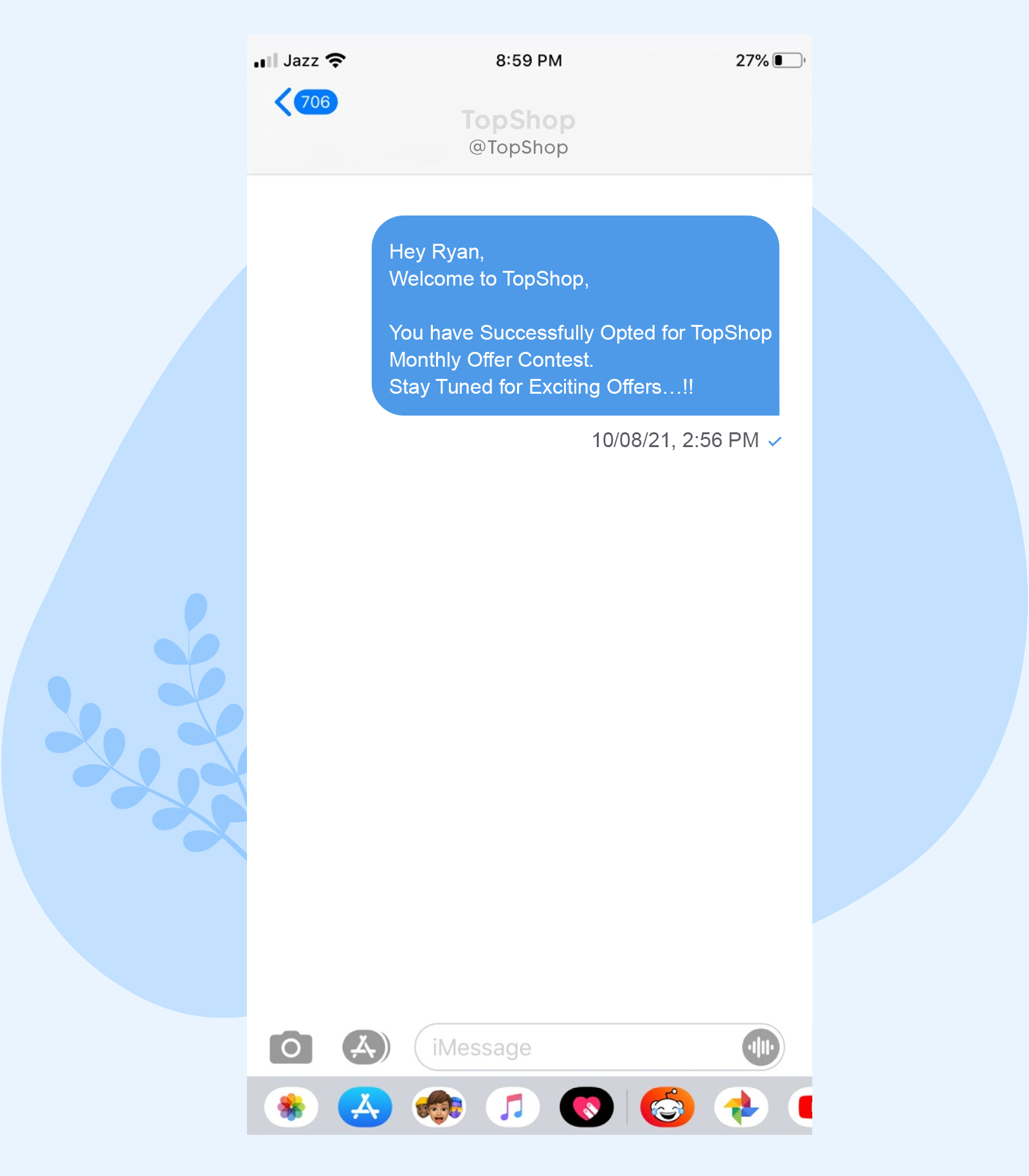 Send a welcome SMS to newly subscribed customers to show your appreciation. A welcome message lets the customer know that they have successfully opted in to text messaging. It is important to send this message promptly. If you delay sending this message, customers could potentially forget why they opted in, and consequently unsubscribe.
Send a short and unique message to create a memorable image of your brand. Be sure to thank your new customer and further reward them with a discount code.
2. Special Coupon Campaign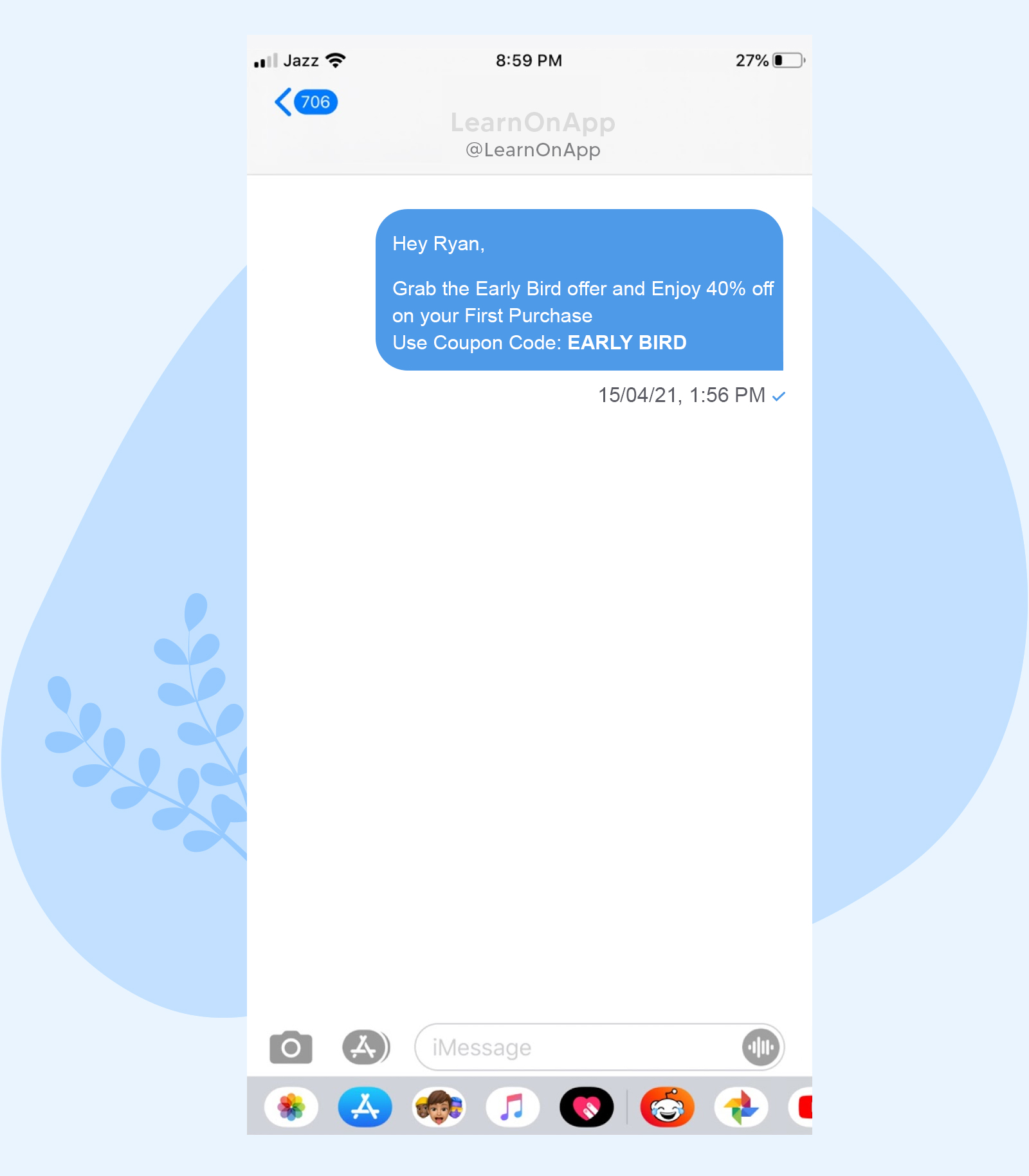 Show your loyal customers that you appreciate their business by sending them a special VIP pricing coupon. Not only will your patrons appreciate this sentiment, but you are also likely to be rewarded with a repeat customer.
3. Abandoned Cart SMS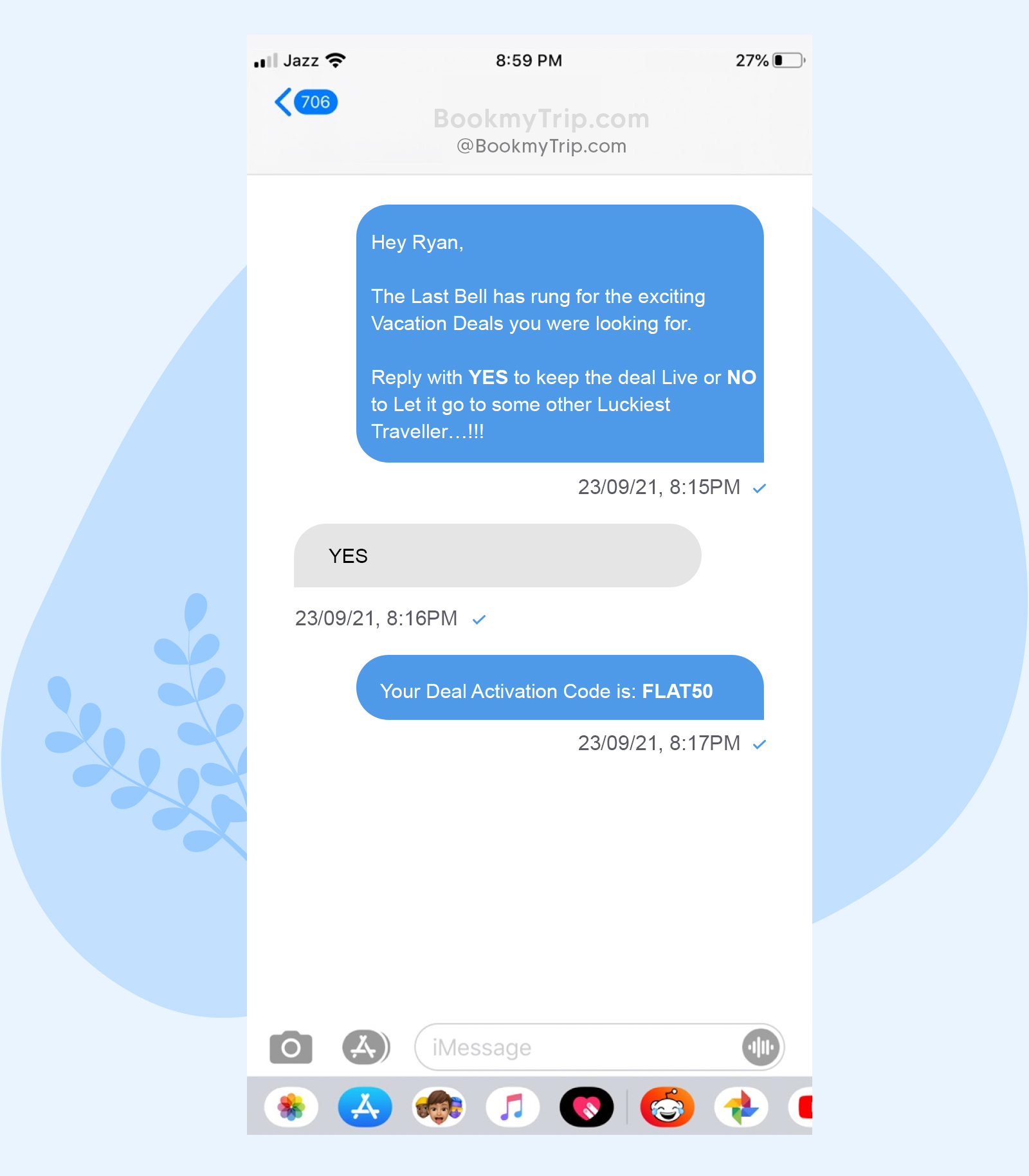 Customers who have begun, but never completed transactions, may have simply forgotten about their orders. Remind these customers that there are items in their shopping cart. Utilizing SMS to remind consumers about their abandoned carts may increase the likelihood that they will complete their purchase.
4. Time-Sensitive Offers
Special discounting offers that are set to expire drive a consumer to make purchases that they may otherwise overlook. This is known as the 'fear of missing out on time-sensitive deals. Use this tactic to your advantage in your SMS marketing campaigns.
5. Personalized Text Messages
Companies that center their business around their customers earn 60% more profit than those that do not. Repeat customers are also 5x more likely to refer their family and friends. Show consumers how much you appreciate their business by sending personalized communications.
Collect data about your customers, including their names, locations, favorite products, etc. Use this information to address your customers by name. You can also make customers feel special by sending notifications when their favorite products are available.
You can also send out text messages on their birthdays, sign-up anniversary, or other special occasions. This attention to detail may drive more revenue and expand your reach through word-of-mouth advertisement.
How to Develop an SMS Marketing Campaign?
The only thing that you need to develop an effective SMS marketing campaign is the perfect blend of the right tools and resources. There are platforms available that provide the integrations you need to reach the right consumers, at the right time. Rich SMS platforms allow businesses to optimize their SMS marketing processes for maximum effectiveness.
Benefits of Rich SMS Platforms Include:
Two-Way Communication with Auto-responder
Analytical Tracking Data
SMS to Call Function
Easy-to-Access Opt-Out Option
Creative, Customizable Content Templates
These platforms make it easy to send consumers links, audio, video, and content directly to their cell phones. This allows businesses to easily develop bulk-rich SMS campaigns in minimal time.
SMS Marketing Solutions
LeadsRain provides its clients with advanced solutions, easy-to-use web-based tools, and integrations that make creating an effective SMS campaign simple and effective. Contact Leadsrain today to learn more about their extensive list of premier lead marketing services to improve your customer support experience.