Here's a sample of one of our customer's telesales script. Have a good read!
Opening lines
Hello, am I talking to Mr./Ms. (name as appears in the CRM list)?
This is (sales rep name), I am talking from the main branch of X Gym, which is located in so and so area.
Purpose
I'm calling you to inform that your six month Silver membership of our Gym will end on the 5th of this month. And also with this, you are now eligible for premium discounts. If you are interested I would you like to describe them to you.
Presentation
Well, as you know that you have already been a gym member for the past six months, and from the tone of your voice I assume a happy one. I would like to list out the offers you are eligible for:
Your six-month package of Gym package that includes a Weight training, Cardio, Aerobics, Krav Maga, Aerobics plus a locker, drops by 15%. This price drop applies to all the packages.
You now get six months of membership in $13.75
If You go for an annual package without any services you get it in $19
With all services 24$
With personal training $30
Confirmation
Yes, I will send the price chart to your email. Your email id is female@gmail.com, right?
The payment has to be done in one shot, and you can pay us by credit card, cash or cheque. If you wish you can visit our other gym branches. Okay, so you will let me know after checking that out. Alright.
Closing
Sure, I'll send you the list of gyms that are in proximity to your workplace.
Well it was nice talking to you, thank you and follow me up with your answer at
+44 (0)20 XXXX 0337. Have a good day miss.
P.S. Leadsrain is an all inclusive cloud based service provider. We have served a multitude of areas through our services like Ringless Voicemails, Predictive Auto Dialer, Bulk Text Messages, Voice Broadcasting etc.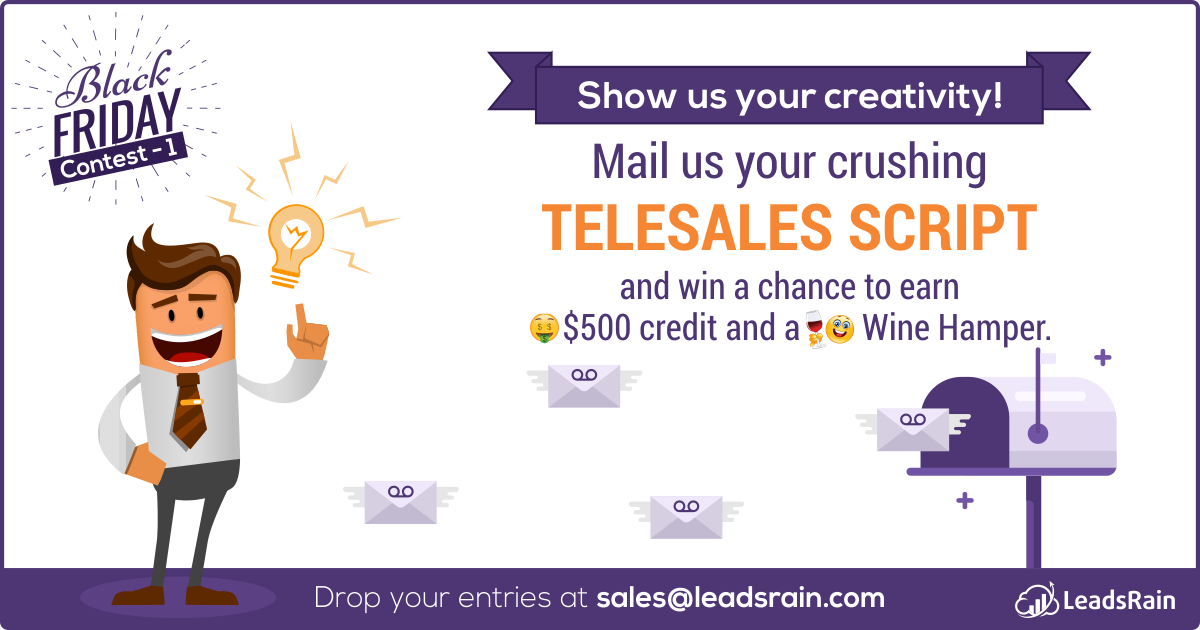 We would like to share something exciting with you all. We are launching  #BlackFriday Contest. To participate, you just have to send us a crushing telesales script that you or your customer use.
If your telesales script stands out regarding creativity and effectivity by our sales and marketing team, you will be gifted LeadsRain credit of $500 plus 🍷 wine hamper (First and second runner-ups will be given $250 and $100 respectively)!
Drop your entries at sales@leadsrain.com. You can send typed scripts or audio ones. We are excited to see your entries.
With this we would also like to say that we now provide data vendors for advertisers with less audience, to know more about it and our product reach us out at  844-ON-CLOUD.