The new academic term is about to start, and so are your woes!
Your to-do list would be brimming with tasks and deliverables, chief among them would be to keep all the stakeholders updated, be it the parents, the staff or the people in your locale.
A lot of schools depend on social media platforms to establish their online presence and consider it as the sole medium to communicate. But it's far from perfect. It leaves gaps in your communication, old school text messaging service can take care of all the shortcomings and pick up the slack.
"Rich Text Messaging Service provides a reliable and fast mode to communicate."
Rich Text Message or RTM is a godsend service that will let you do this and a lot more. RTM can send bulk messages that have links, images, contacts, forms, etc. in the form of SMS to your clients. Or in other words, you can send timetables, class descriptions, exam reminders, holiday messages to the parents, receipts for paid fees, reminders for unpaid fees and much much more.
Hopping onto the RTM bandwagon is the easiest way to reconnect with the tech-savvy generation. Even the science is on your side, research has found 70% of students enjoyed the mobile learning experience and a whopping 96% of parents found this mode of communication convenient and easy to follow.
Now you must be thinking I already know this! I already use Rich Text Message or something similar and I don't like it! And you are correct in thinking so! Most people when introduced to Rich Text Message focus on its benefits, which to be honest are limitless, and it's easy to forget about the nitty-gritty technicalities of RTM.
A big part of the experience and the results of RTM depends a lot on the tool you use. Our client Samantha Jones, chief communications officer at a junior high school in New Jersey, last year was really skeptical of how switching vendors would help her, today she swears RTM is the most versatile tool in her arsenal thanks to our feature-rich lightweight Rich Text Messaging tool.
Also Read: An array of most searched Rich Text Message Questions
Below are a few features that we at LeadsRain provide
CRM or ERP Integration
Stop juggling between different tools with an integrated system that works with your existing CRM or ERP system. This not only means an end to migrating data for every single task but also an end to recovering files lost in transactions. Our bidirectional integrated system allows you to push data forward while starting a campaign and pull reports back into your system seamlessly. The integrated system allows you to be agile when it matters, say yes! to sending text alert messages to parents and students in moments.
Auto Response
An auto-responder can respond automatically on the basis of keywords. It sends an auto-generated message created from the template you provide, depending on the task and query. Dynamic auto-response templates can add details about the clients in their response and make a simple message an enriching customer experience.
Say, for example, you send an update on the school picnic.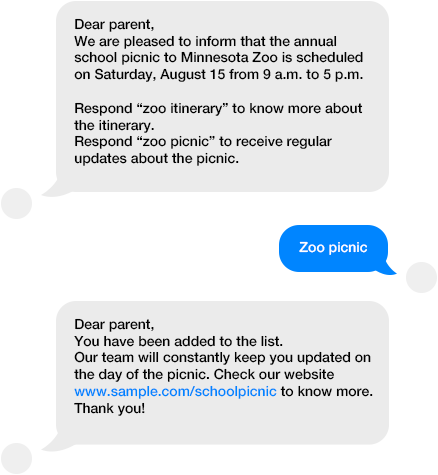 See what happened?
The parent is engaged and also redirected to information they may find valuable.
And you earned street creds without even lifting a finger!
Custom Report Generation
Have quirky requirements? Want to measure everything? Want to really measure specific metrics?
We at Leadsrain believe in data and analytics, and hence provide tailor-made reports when round pegs do not fit in square holes. We provide comprehensive reports for all our services. Our reports include Website traffic, Insights analytics, engagement level, delivered and undelivered texts, etc.
Cloud-based Infrastructure
All Leadsrain services are cloud-based. It means that you focus on your core tasks and we take care of all the technical hassles. Our robust Cloud-based infrastructure ensures a speedy connection with almost zero downtime, all while being sheltered behind a super-secure firewall. Cloud-based infrastructure also gives you the independence to work from anywhere in the world.
Lightweight and User-friendly Interface
The browser-based services do not require you to buy new expensive tech to use our services. Load up your browser and you are good to go. Additionally, our platform is intuitively designed to be easy to learn and operate. That means less time training and more time playing.
Unbeatable Response Time
Need a hand? Our team of experts is at your beck and call to hold your hand through any obstacle within 60 seconds of you reaching out.
Easy and Convenient Payments
Leadsrain charges you on the number of attempts made after our inbuilt Cellphone-scrubber removes landlines and non-mobile numbers from the list, which means that you only get charged on genuine attempts made to cell phones on your list. We only charge prepaid with no added contracts or hidden charges or any obligations.
Need something that is not on the list?
We got you covered there too!
We also provide customized solutions for times when off the shelf products just won't cut it. As you would have guessed by now, we at Leadsrain believe in providing user-focused products. Check out our services page to know more about all the services we provide.