Choosing the most excellent call center service is what all businesses wish for and can be a daunting task if you lack the expertise to do so. A crucial element of your sales funnel and client experience is call center. Firms that establish good call centers for dedicated clients care, benefit by building customer loyalty and retaining their customer base.
With that said, Pay-Per-Min can be a lifesaver for any direct marketing business that is getting off the ground. Let's give credit to massive up-front customer acquisition costs. The majority of LeadGen startups struggle with cash flow matters until they can recover their principal investment.
Adopting Pay-Per-Min over Pay-Per-User pricing model can help to ensure that your company is maximizing the lifetime of individual customer you acquire.
Another benefit of Pay-Per-Min is its capacity to support customer retention. Cancelling a service is perceived as a hassle and SME's would prefer to stick with a service that is working for them rather than shift to another, even if the other option offers a better deal. Besides, Pay-Per-Min pricing model provides convenience to pay when required and as you go, No contracts – No commitments basis.
Additionally, several key points are essential to be considered while making this decision. So let's explore them.
Business Tools Integration
Business tools integration is a must-have call center software feature. It integrates with your CRM, current helpdesk and networking platforms with one click, which will transform your team's productivity and efficiency.
Select an automated task solution for more bang of your buck. A cloud-based dialer automates repetitive and business tools integration tasks for your team. When a call is not answered, it automatically delivers a pre-recorded message in the customers' voicemail box making sure that you make the best out of every lead.
Furthermore, based on the integration triggers, the system will push all the data information into your CRM and update the data records accordingly.
Ease of Use
Once you have picked the right call center service with the right features that are flexible and can scale with your business, evaluate them for ease of use. The service should be a way that your agents can navigate it in a few hours. The trick is to let the agent test drive the platform at the trial stages. If they aren't able to be pros in a few hours, then pick another solution for them.
Training
After selecting a call center software that is quick to implement and easy to use, there will be various training materials easily accessible to you, which will help you understand the platform and its functionalities easily. The majority will be videos, PDFs and a knowledge base to aide your team get started and running. Utilize all the resources they have even if you hardly need them. Training on the front-end will save a lot of headache down the road.
Technical Support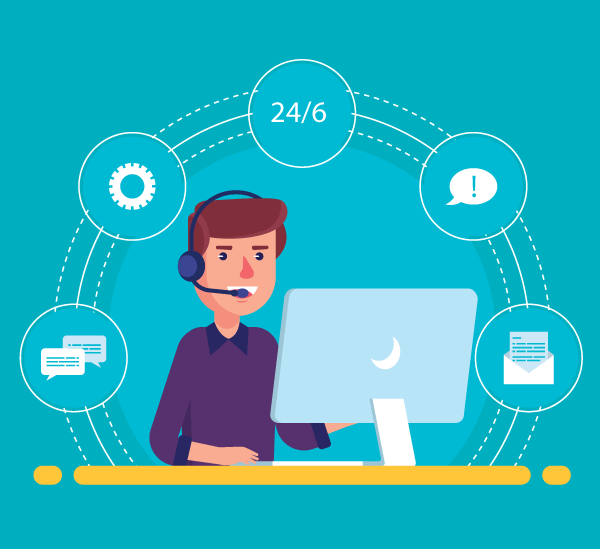 Something will inevitably go wrong, and you must know that your service provider will be there for you. We at LeadsRain, offer 24*6 technical support, through chat, email and calls. We will battle it out in the IT trenches, as we will be your best allies. We believe that all our clients no matter the size are all our growth partners.
Customer service
Customer service can be the difference between the call center services that make the cut and those that do not, check on our social media platforms, and you will note that there are no complaints from clients or lack of responsiveness.
Did we fail to respond to our customer's complaints?
No. This is valuable data that you don't want to overlook. You can check our average response rate to customer support. We respond in less than a minute to all our clients' chats and try to resolve queries as fast as possible.
Pricing
Businesses are willing to pay more for a call center platform with optimal services. For the price, sensitive individuals do quick math how it will cost you losing a customer because of a bug that isn't fixed or your phones are down or because your agents don't have the right features for the job and you have already purchased the service for coming months upfront.
Hence our billing is transparent, and you can always view charges, and our support is responsive if you have an issue with billing. We won't lock you into yearlong contracts or slap you with huge bills with hidden charges.
Free trial
It is an absolute must for a business to use free trial first of the call center platforms. We as LeadsRain provide a free trial of 100 minutes/drops/texts. Spend as much time as possible using the service during the trial period. Ask your team members to give it a go, try different use cases, run reports, and receive calls-the whole gamut. All these efforts will payout when you are ready to pull the trigger.
Monitoring and Reporting Capabilities
This duo is must-have for your call center platform. We undertake to monitor concerning actual interactions over calls, call history and call logs. Reporting is crucial concerning maintenance of information and call history related to agent activities.
The system of performance management is essential for call center services. Our platform provides optimum level analytics and specifications that help in monitoring performance management by setting up metrics, communicating with team members, measuring success and defining goals.
Auto Dialer
These are the systems that can expedite and automate the dialing of phone numbers. Cloud Call center services Software has emerged as the leading game changer for established traditional call centers and as well as small businesses. An auto dialer is capable of running two campaigns simultaneously "the inbound and the outbound".
A predictive dialer features the automatic outbound calling system that dials to a list of telephone numbers. It also manages and handles calls depending on the associated database of processing instructions.
Picking on the right call center service for your company is not the only headache, but using it every day is another. With LeadsRain you can be confident and assured that with professionals there wouldn't be any further headaches and you will get the most reliable cloud-based dialer services as we provide a top-notch client experience.