Nowadays, the world of marketing has transformed appreciably, and the rationale behind that can be ascribed to the Internet. There are yet a very huge number of customers that will call your business directly for additional information. If we talk about online marketing there are a lot of tracking tools that facilitates you in evaluating where clients are coming from, what they require and what's enticing them. With a conventional phone based system those types of marketing analytics aren't accessible, and in most of the cases it's not even possible to accumulate them. This is extremely inopportune because a contemporary and burgeoning business would want access to data like that perpetually.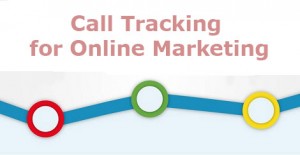 Moreover, the call tracking tool utilized for Online Marketing has dynamic features that you shouldn't keep your business deprived of. Call Tracking tool can track incoming calls per marketing source, has capability of generating online reporting, there is also a facility wherein you can take a view of incoming number, date, duration, location and time. Also the reverse lookup option offers company name for incoming calls.
Reasons Why Pick LeadsRain's Call Tracking For Online Marketing
Following-up your internet marketing campaigns – Analyze collated emails, submissions of form, or even sales. With LeadsRain's Call Tracking, you will be able to accurately see the number of offline conversions (phone calls) your website is attaining.
Information of the phone call generation – With call tracking, you are able to get a clear picture of what advertising expenditures are really generating the leads.
Quality- driven –Which advertising sources are in reality generating the quality phone calls, can be inspected by listening to your phone calls.
Enhanced sales team /customer service – With the help of call tracking tool of LeadsRain you can evaluate if your customer service or sales team is handling opportunities the right way and if the team is appropriately capitalizing on the business chances.
Find areas of improvement to upgrade – By using call tracking tool listen to phone calls that enables LeadsRain to discover if there are areas on your website that requires revamping or aggrandizing.
If you're a leading business looking to make a mark into the online marketing world, then without doubt choose LeadsRain's Call Tracking & add a feather in your cap. For any queries feel free to get in touch with us.